14.12.2017
Reception at the consul general of China
Students of the 3rd year of the Bachelor`s Degree of the Chair of Philological specialties for foreigners and preparatory training, students from the Zhejiang Institute of Foreign Languages, USEU, who came on an academic exchange program for students, and 1st year students of the second higher education of specialty 5B012200 - Russian language and literature in schools with non-Russian language training, specialization "Russian language as a foreign language" on December 12, 2017 took part in the friendly reception of the Consul General of the PRC in Almaty. The reception was held in the "Grand Ballroom" of the hotel "Kazakhstan". The Chinese Consul General, Mr. Zhang Wei, congratulated Chinese and Kazakhstani students studying in the leading universities of Almaty with the coming New Year, noting that educated youth is the future of each country. Honorary guests of the evening were students, deans and teachers of the Faculty of Oriental Studies of KazNU named after al-Farabi, KazUIR and WL named after Abylai Khan, heads of two Confucius Institutes in Almaty, the International Kazakh-Chinese Language College.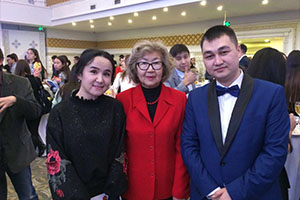 Information was prepared by
Associate Professor of the Department Minaeva N.M. and senior lecturer Mamytbekova L.K.