16.02.2017
Annual round table about the improvment religious literacy among youth

Today, religious extremism and terrorism are global world problems. It is no secret that the spread of extremist ideas and secretly promoted the destructive trends in our society.
Other abnormal flow using the youth to spread his ideology, which later go on various offenses posing a threat to national security under the cover of religion. Proofment of this, events on 5 June and July in Aktobe and Almaty of last year.
For the prevention of terrorist acts is required to increase religious literacy of young people. In the Address to the Nation, President N.A. Nazarbayev stressed that in order to prevent the spread of religious extremism should carry out work on a pathway obstruction, i.e., take control of the Internet and social networks.
Since 15 February 2017 at Abai KazNPU start "Ten day round table about improvement religious literacy".
Ten day round table `s work opened with participation of representatives of the Religious Affairs Department of Almaty City.
The event was opened by Vice-rector for educational work, Professor Zhanatbek Ishpekbayev and focused on the relevance of the nominated problems and shared carries out activities for the prevention of this problem:
- Annual comprehensive measures based on the "State Programme of Action against religious extremism and terrorism of the Republic of Kazakhstan for 2013-2017 years";
- Lecture series on the year developed by the theologian, pedagogues , psychologist of the University;
- since 2014 held on ten-day round table "Prevention of extremism, terrorism and increasing religious literacy"; All first-year course students in the second semester, pass the discipline " Religious studies ".
- Established relationships with the Republican advocacy group led by the chairman of the Committee on Religious Affairs of the Ministry of Religious Affairs and civil society;
- For methodological direction of students was published book "And in religion should be cautious" confirmed by the Agency for religion RK;
In addition, in conjunction with the National Security Committee, the central mosque and with the Department of Religious Affairs of Almaty held on meetings, round tables and lectures. For students are shown a series of films about the destructive trends confirmed by the Ministry of Education and Science of the RK and Religious Affairs Agency RK.
Head of the Department research center and the expertise of the Office for Religious Affairs of Almaty Tursyn Tanataruly Kudaykulov gave information about extremism, terrorism, radicalism and religious state of the country.
Disciplinary Counsellor of rector Nurali Aytureev focused on youth protection methods.
During the event, on the subject were read reports of head of the Chair of international relations, Doctor of Political Sciences, Professor Zhomart Simtikov, professor of the Chair of Political and Social Philosophy, Doctor of Philosophical Sciences Daurenbek Kussainov.
At the end of round table, Vice-rector for educational work Zhanatbek Ishpekbayev thanked all the participants and guests of the round table and called in the future to do everything necessary to improve religious literacy among youth.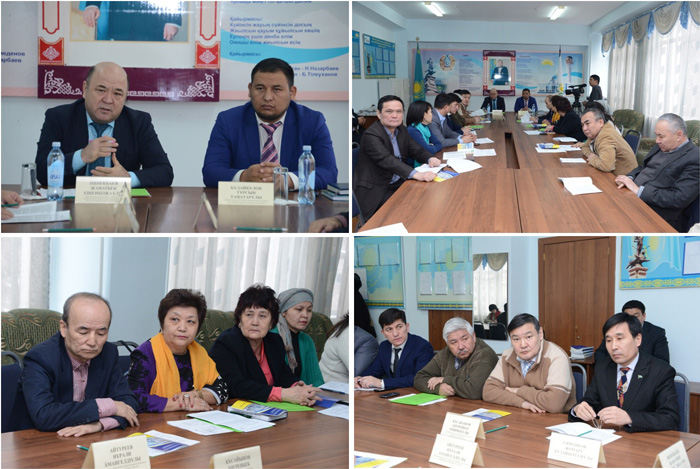 1313