17.05.2017
ANNIVERSARY OF OUTSTANDING LITERARY SCHOLAR ABDYKERIM MURATOV ( Kyrgyz Republic )
On May 17, 2017 marked the 60th anniversary of writer, literary scholar , journalist, doctor of pedagogical sciences Abdykerim Muratov. As a writer, he published about 15 works of art, including a historical novel, novels, stories for children, feature articles about writers and more than 1,500 publicistic articles in newspapers. Currently he works as deputy editor-in-chief of the international newspaper "Zaman Kyrgyzstan".
As a literary scholar A. Muratov is known for his profound research in the theory of literature (about 60 monographs), including "Ethno-pedagogy in the work of Ch.T. Aitmatov". As a scientist-methodologist, he is the author of more than 15 Kyrgyz literature textbooks, as well as educational and methodological recommendations, normative documents and programs. The scientist created six terminological dictionaries in Kyrgyz and bilingual Kyrgyz-Bashkir dictionary of literary terms.
Working as a professor at I. Arabayev Kyrgyz State University, A. Muratov is chairman of the Academic Council on the theory and methodology of teaching Kyrgyz, Russian and Turkic languages ​​and literature. He was awarded numerous government diplomas, medals, grants and signs.
His International Jubilee Conference was attended by colleagues from the CIS and far abroad. From our university for the jubilee were invited doctor of pedagogical sciences, Corresponding member of the NAS RK B.U. Smanov and doctor of pedagogical sciences, Professor M.R. Kondubayeva, who are constantly collaborating with the Kyrgyz Academy of Pedagogical Sciences as members of the Dissertation Council and experts.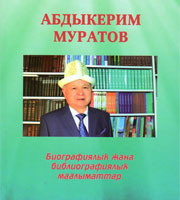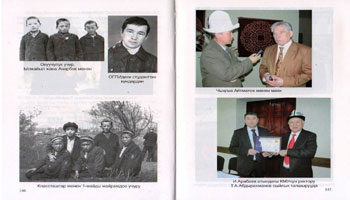 2424