25.04.2017
WE ARE INVITING TO THE STUDENT SPRING FESTIVAL "YOUTH. CREATION. INNOVATION"
On 20 April, 2017 at Abai Kazakh National Pedagogical University within the framework of the "EXPO-2017" exhibition began the spring student festival "Youth. Creation. Innovation". From 20 to 29 April the festival will be held competitions as intellectual, creative, sports, military competitions and actions . The festival started with the action "Etiquette Day". During the event Kazyna Bebekenbetova - deputy head of the department for educational, social work and youth policy, acquainted students with the university`s internal rules of conduct and with the "Abai KazNPU Ethical Code» and carried out propaganda work on observance of ethical norms at the university.
Chairman of the Committee on Youth Affairs Rashid Seitov in the form of presentation presented the plan of the festival and the system of student self-government.
During the ten-day "The best of the best" , who will be able to show their knowledge and creativity at the student festival will be awarded .
General sponsor of the festival is Student Trade Union of the University.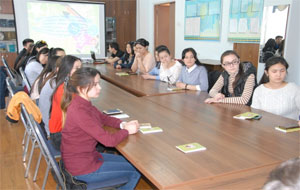 Department of educational, social work and youth policy