20.06.2016
Delegation of the Pomeranian Academy in Slupsk City (Poland) at Abai KazNPU
From 13 untill 18 June 2016 in the framework of an academic cooperation agreement Abai Kazakh National Pedagogical University visited delegation from the Pomeranian Academy in Slupsk (Poland). Delegation visit organized International Cooperation Department headed by N.A. Abueva. The Polish delegation - the newly elected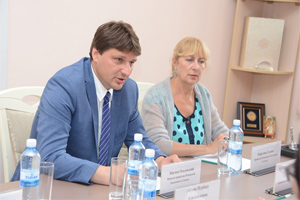 Rector of the Academy, Professor Zbigniew Osadovsky and Head of the Chair of Russian Literature of the Neophilology Institute Professor Galina Nefagina.
On 13 June took place a meeting with the First Vice-Rector M.Y. Yermaganbetov. The meeting was the signing of a cooperation intention of the Protocol, identified priority areas for the exchange of scientific and teaching staff and students, discussed about double-diploma education issues additional contract and other issues. On the same day, the guests met with the directors of the Institutea of Abai Kazakh National Pedagogical University, the staff of the Philology Institute and Chair of Russian language and literature, made a presentation of the Pomeranian Academy.
The visit was full of meetings and negotiations. The guests were Vice-Rector for Academic Affairs, A.T. Kulsariyeva, Vice-rector on economic and industrial issues G.K. Turabayev. In the negotiations participated Head of Educational Department G.Z. Taubayeva, employees of the academic mobility division and others. They discussed bilateral programs, issues of academic mobility of students and various prospects for cooperation.
Zbigniew Osadovsky and G. Nefagina visited the Sorbonne-Kazakhstan Institute, the Institute of multilingual education and the Institute of Natural History and Geography; they met with the staff of the Chair of History and Chair of Philological disciplines for foreigners.
Of great interest the conversation with the Polish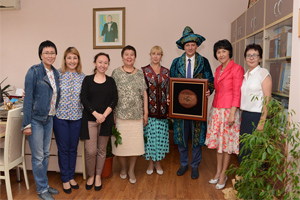 guests were students and undergraduates of the Chair of Russian language and literature, who have already been to a semester studying in the Pomeranian Academy.
Chair of Russian Language and Literature and has taken care of the cultural program for the guests: they visited the Park of the First President of Kazakhstan, Medeo and Shymbulak, Kazakh National Pedagogical University museum and theaters of Almaty.
High professionalism, openness to cooperation and personal charm Rector of the Pomeranian Academy Zbigniew Osadovskyand professor Galina Nefagina
made this visit fruitful, and its atmosphere - and a sincere heart.
1417