01.08.2017
"KHAN KORYK" - YOUTH FESTIVAL OF THE RK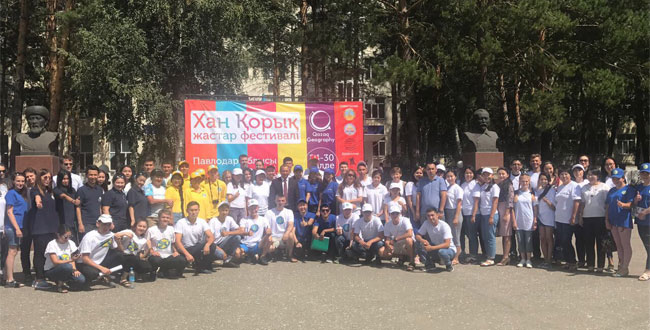 Native land - the cradle of gold. "Country" and "Land " together represent the concept of "Motherland". This idea was also found in the program article "Leader of the Nation", addressed to the people of Kazakhstan "A look into the future: modernization of public consciousness". Within the framework of the program "Tigan zher" ("Native land"), which is set forth in the article of the President of the Republic of Kazakhstan, various events are held in honor of the homeland of our country, praising "Sacred spiritual values ​​of Kazakhstan".
In order to implement the project "Spiritual relics of Kazakhstan", from 24 June to 30July of the current year Pavlodar State Pedagogical Institute and Public Association "Pavlodar House of Geography" jointly organized the annual youth festival of the Republic of Kazakhstan "Khan Koryk" for students of higher educational institutions of the Republic of Kazakhstan in Bayanaul National Park.
The festival aims to familiarize young people with historical and cultural monuments, nature reserves of the region, tourist and environmental researches . 15 universities of the RK took part in the festival, our university was presented by the senior lecturer , candidate of biological sciences D. Kulzhanova and her students.
The festival started with a conference, which held at the Pavlodar State Pedagogical Institute. At the conference representatives of participating universities of the festival got acquainted with the nature of the region and the achievements of educational institutions. Our university students Bakhor Rametova, Lyazzat Zhuma, Meruert Aitzhan surprised all the participants of the conference with a presentation about the sights, cultural and historical monuments of Almaty .
The cultural event was continued by the master class of Professor B. Zhumadilov. Bolat Zhumadilov acquainted participants with Bayanaul National Park and its rare plants and animals.
During the next days of the festival, the participants got acquainted with the excavations in the settlements of the Bronze and Iron Age, participated in the ascent to the highest mountain Bayanaul - Akbet , whose altitude is 2200 meters.
At the final stage of the festival, the rector of the Pavlodar State Pedagogical Institute, Doctor of Chemical Sciences, academician of the International Academy of Engineering Altynbek Nukhuly thanked the participants and presented memorable gifts on behalf of the Institute. In his speech, Altynbek Nukhuly expressed his special gratitude to the staff of Abai KazNPU.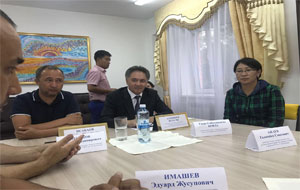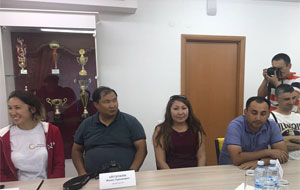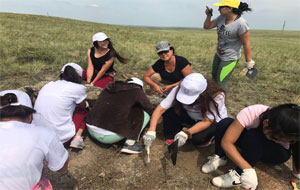 1404