10.11.2017

The forum of rectors of Russian and Kazakhstan universities in Chelyabinsk
From 8 to 9 November, 2017, within the framework of the 14th forum of interregional cooperation between Russia and Kazakhstan in Chelyabinsk was held the forum of universities rectors of the two countries. The heads of 77 Russian and 49 Kazakhstan universities took part in the forum.
The main goal of the forum is the signing of agreements on collabration, which will be directed to the development of the sphere of education and science. The universities will work jointly to prepare students, use the laboratory and technical base of universities, implement common projects.
The forum program of rectors of Russia and Kazakhstan universities included two blocks - work in sessions and a plenary session. In the sessions discussed the development of innovation activities of universities, improving the competitiveness of human capital, as well as the strategic partnership of Russia and Kazakhstan universities.
During the forum of rectors of Russia and Kazakhstan universities, the South Ural State University (SUSU) signed cooperation memorandums with 6 higher education institutions of Kazakhstan. The largest of them is Abai Kazakh National Pedagogical University.
Rector of Abai KazNPU Takir Balykbayev noted that this event held in Chelyabinsk within the framework of the Forum of Interregional Cooperation of Russia and Kazakhstan proved to be successful and productive for all its participants. In an interview with media representatives, he told what directions the University plans to work with SUSU in the framework of the memorandum: " The 1st of all, this is the staff training. That is, our students will be able to take internships in Chelyabinsk within the framework of academic mobility, and students of SUSU can to listen a individual courses in our university. The 2nd is the joint research work of our teachers and students. Here I expect the emergence of serious developments, because our university is one of the leading research centers and has great opportunities in this regard. And the 3rd direction is the professional development and retraining of teachers of our universities ".
As a result of the forum of rectors, was adopted a joint resolution on cooperation in the field of science and education, training and education of students, joint use of the laboratory and technical base of universities, and the implementation of joint projects. Within the framework of the forum, 40 agreements on cooperation were concluded between Russian and Kazakhstan universities.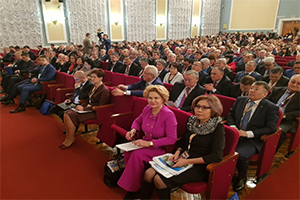 Department of Public Relations
1382