30.11.2017
Meeting with the Ambassador of South Korea in the Republic of Kazakhstan

On 29 November, 2017, Ambassador Extraordinary and Plenipotentiary of the Republic of Korea to the Republic of Kazakhstan, Mr. Kim Desik during the working visit to Almaty met with the rector of Abai Kazakh National Pedagogical University, Professor Takir Balykbayev.

During the meeting, the focus was on the prospects for the development of Kazakh-Korean cooperation in the field of education and science. In particular, the idea of opening the Abai center at Chonnam National University and the resumption of the activities of the Kazakh-Korean center at Abai Kazakh National University, as well as the experience of South Korea concerning the romance of the writing, and the need to translate the works of prominent Korean scientists into the Kazakh language.

Mr. Kim Desik also met with the University teaching staff and students. Mr. Ambassador gave a lecture on the history and culture of Korea, and also talked about the current situation on the Korean peninsula.

During the meeting, Mr. Kim Desik noted the importance of developing partnerships with Kazakhstan higher educational institutions in the field of education and culture. In addition, he told the students about the purpose of the visit and the meetings with Kazakhstan partners and called Korean students studying at Abai KazNPU to be active and to use their knowledge in the future for the benefit of the country`s development.
In turn, the students thanked the Ambassador for the meeting and in the sign of gratitude performed the national songs and dances.
At the end of the meeting, the head of the Korean diplomatic mission wished the students success in their studies.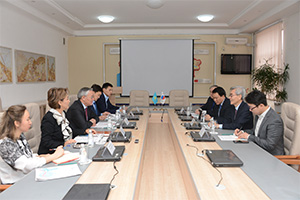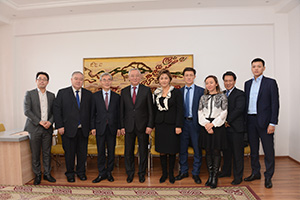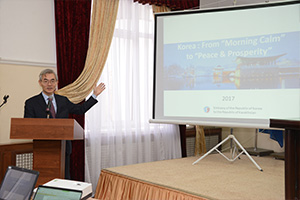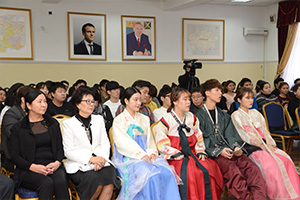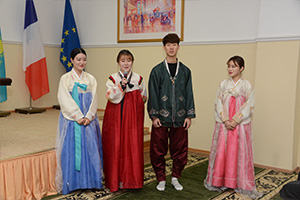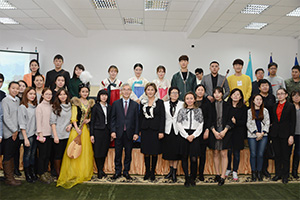 2364